---
---
Make sure to watch this video from the beginning for the great steak ideas
US$

237.49 –

US$

374.99
Add style to your outdoor cooking space with this Firewood Stand.  Comes in two sizes to perfectly match the artistry of your tandoor. A beautiful cover is included. Small Height: 85 cm, 33.5 in Length: 74 cm, 29.15 in Width: 50 cm, 19.7 in Weight: 21 kg, 46 lb Large Height: 109 cm, 43 in Length: 89 cm, 35 in Width: 40 cm, 15.75 in Weight: 31 kg, 68 lb
Buy
US$

19.99
Unleash your creative skills with one of our most popular tandoor tools. The tandoor meat hook is perfect for cooking large pieces of meat such as a leg of lamb, whole chicken or even a turkey.
Add to Cart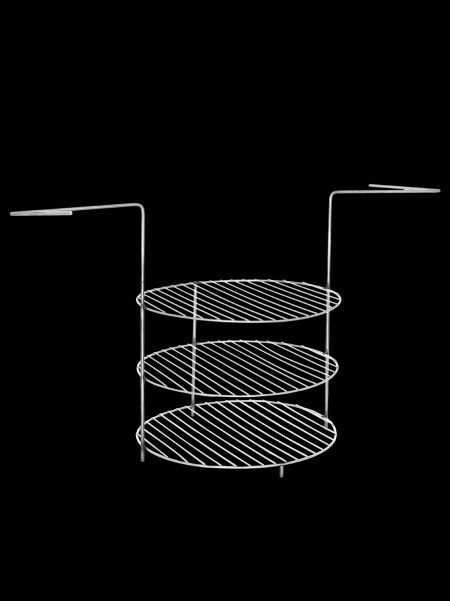 US$

52.49
This is the perfect tool for cooking up some steaks, chicken breasts, salmon filets or vegetables. Use this rack in combination with our Large sized baking stones for the added ability to cook up to 3 pizzas simultaneously! This rack is intended for use in the
Ataman
,
Saka
,
Aladdin
 and 
Oriental
.
---
Diameter: 11.4 in / 29 cm Distance between tiers: 4 in / 10 cm Height: 11.8 in / 30 cm
Add to Cart
Tandoor Ataman (With English Subtitles)
Tandoor Ataman review (in German)
Tandoor Ataman - Tandoori Chicken (in German)
Tandoor Ataman comparison with Tandoor Khan (in German)
US$

72.49 –

US$

77.49
Use the base to raise your tandoor off of the ground.  Perfect for increasing the height of your tandoor to suit taller individuals and simultaneously adding elegance.  The base also makes it easier to remove ash and coals from inside the tandoor when you're done cooking. Available for all tandoors that do not already come with a base.
Buy
US$

99.99
This beautiful lid and accessory stand is a fine complement for any tandoor. The fine metal work and artistry perfectly complements the design of all of our tandoors. Use it to support the tandoor lid while you are loading, unloading or just enjoying the aromas rising from your tandoor while cooking. The stand is also perfect for hanging many of the accessories that can be used with your tandoor including the ash scraper, shovel, skewers and others. Height 37.5 in (95 cm) Diameter 17 in (43 cm) Price includes the lid stand only.
Add to Cart
US$

27.49 –

US$

34.99
Keep your tandoor dry and free of debris with our custom sized water resistant covers.  There is a custom size available for all of our tandoors.
Buy
Tandoor Khan (With English Subtitles)
Tandoor Khan review (in German)
US$

1,298
+ FREE SHIPPING
This PREMIUM KIT contains:
- One Tandoor with the following accessories:

    - Ash Grate
    - Ash Scraper
    - Ash Shovel
    - Skewer Hanger
    - 8 Skewers

- One Base,
- One 3-Tier-Rack
- One Skewer Bowl
- One Tandoor Cover
- One Meat Hook
- Two Baking Stones
- One Universal Crossbar
Tandoor Khan is in the medium size range of our tandoors. It features a classic pottery vase shape, clean lines, and finely detailed metalwork. This tandoor has the same high quality craftsmanship as our larger tandoors, but at a more affordable price point. It accommodates 8 or more skewers for you to make large, delicious meals for friends and family.
For a full list of specifications please
Click Here
Add to Cart
Compare