Elegant design. Bold experience. Serious cooking.
Our hand crafted clay ovens deliver an authentic cooking experience. Tandoors have been used for centuries making the worlds most familiar and delicious dishes.
FREE SHIPPING!
For a limited time get free shipping anywhere in Contiguous United States and Canada on most tandoors! This won't last long, so take advantage now!
Cooking with a tandoor is simple, captivating and delicious
You will never have to turn, flip or brush. Simply load, enjoy aromas, then feast.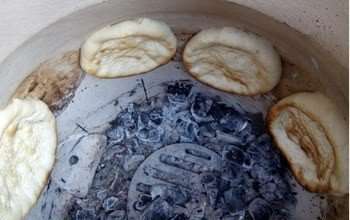 Traditional flatbread done right
Slap naan, lavash, roti, or any other flatbread directly to the inside wall of your tandoor. Watch it bake perfectly in just a few minutes.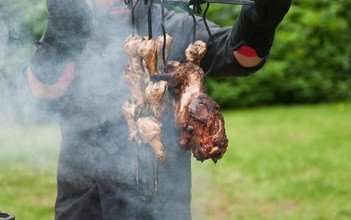 Roast a whole leg of lamb, skewers of chicken, vegetables
or cook them all at the same time.
CONVECTION, RADIANT HEAT AND SMOKING
provide our tandoors the authenticity of one of the original forms of cooking.
Tandoors have been used for centuries, making the world's most familiar and delicious dishes.
Wood fired tandoor ovens combine different cooking techniques which some would consider being the product of the modern culinary arts. A combination of convection, radiant heating, and smoking, produced in tandoor results in flavors superior to those of a traditional charcoal grill.
When you try one of our tandoors, you will find this combination of techniques provides a unique flavour that is truly exclusive to cooking with a tandoor oven.
The term tandoor or tandoori oven refers to a variety of ovens.  The most commonly known is a cylindrical clay or metal oven used for cooking and baking.
Traditional Tandoor cooking is now coming to your home with a broad selection of beautiful hand made clay ovens brought to you by Luxury Tandoors.  They deliver the finest dining experience that only a real wood burning tandoor can offer. They are also as beautiful as they are functional and can take your backyard barbeque to the next level, whether it's just for dinner with the family or all of the neighbors on the block.
Arabic/Persian: تنور   Turkish: tandır   Urdu: تندور‎   Armenian: Թոնիր  Azerbaijani: təndir   Hindi: तन्दूर   Punjabi: ਤੰਦੂਰ   Uyghur:تونۇر‎ tonur  Chinese: 馕坑   Korean: 탄두르   Sanskrit: कन्दु   Bengali: তন্দূর   Georgian: თონე